News.....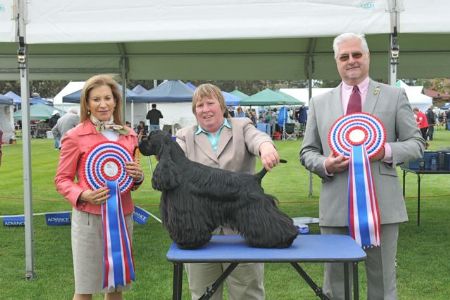 NEWS...
FEBRUARY
BRAYDON MAKES HIS DEBUT AT EAGLEHAWK WITH A BEST OF BREED - KENNEL MATE BRASSI WAS RUNNER UP BOB!!!
JANUARY-
A QUIET MONTH WITH A CRUISE ON THE PACIFIC JEWEL -THANKS TO HELEN FOR LOOKING AFTER THE DOGS !!
DECEMBER-
A BUSY MONTH WITH WORK AND VISITING BRAYDON IN QUARANTINE - THANKS TO HELEN PEREYRA FOR MAINTAINING THE COAT ! HE GETS OUT JUST AFTER CHRISTMAS AND IS MATED TO CH AMYANKS BLK N TANTRUM
PENNY COLLECTS TWO MORE BEST IN SHOWS AND FINISHES THE YEAR AS NUMBER ONE GUNDOG - NUMBER EIGHT ALL BREEDS IN AUSTRALIA - CONGRATULATIONS TO BRIAN AND MAUREEN AND CRAIG!!
SUNFIRE IS AGAIN THE NUMBER ONE AMERICAN COCKER KENNEL IN AUSTRALIA AND NUMBER ONE GUNDOG KENNEL IN VICTORIA!!
NOVEMBER
THE AMERICAN COCKER CLUB OF VICTORIA CHAMPIONSHIP SHOWS WHERE THE GIRLS COEM OUT TO PLAY - QUIRKY IS BABY PUPPY IN SHOW AT BOTH THE AM AND PM SHOWS AND BRASSI IS BEST JUNIOR IN SHOW AT BOTH. JAG IS ASCV AMERICAN OF THE YEAR AGAIN AND BRASSI AND HER BROTHER ONYX ARE TWO OF THE WINNERS IN ASCV PUPPY OF THE YEAR.
TEAGAN (CH MILLCREEK DOLCETTO AT DUSK) HAS A LITTER TO JAG .
JAG CONTINUES HIS RUN WITH TWO MORE RUNNER UP IN GROUPS AND BRTASSI PICKS UP A FEW MORE JUNIORS IN GROUP AND HER TITLE.
BRAYDON ARRIVES IN QUARANTINE !!!!!
OCTOBER
WE REPEAT THE MATING OF DODGE - MBIS CH HARLMOR RUMOUR HAZIT AND ONE LITTLE GIRL GOES TO TAMMY STEVENS WHO IS ALSO NOW SHOWING CH SUNFIRE BLACK WITHA VENGANCE AND THE OTHER JOINS MISS MILLIE AT THE MIDDLEDORPS
QUIRKY - SUNFIRE TIME TO STAR FROM JAG AND EVIL AND CO OWNED BY MYSELF AND HELEN ROBERTS AND SHOWN BY HELEN COLLECTS TWO BABY PUPPY IN SHOWS
SEPTEMBER
STARTS WITH A BANG WITH JAG BEST IN GROUP AT YEA AND RUNNER UP IN GROUP THE NEXT DAY -BRASSI (CH SUNFIRE MISS CLASS IN BRASS) FINALLY DECIDES TO SETTLE DOWN AND COLLECTS HER FIRST PUPPY IN GROUP AND GIVES US A SIGN OF WHAT IS TO COME ..
PENNY COLLECTS 3 MORE BEST IN SHOWS AND STILL LEADS THE DOL GUNDOG OF THE YEAR!
MELBOURNE ROYAL - BEST OF BREED AMERICAN COCKER - SUPREME CH SUNFIRE ABSOLUTE POWER - RES CH AND RUBOB - CH FIELGAR TIME TRAVELLER (IMP UK) AND BITCH CHALLENGE AND PUPPY OF DAY- SUNFIRE MISS CLASS IN BRASS!!
GRAND CH SUNFIRE SWAMP MONSTER TAKES HIS SIXTH BEST OF BREED AT MELBOURNE ROYAL AND GOES ONTO TAKE 3RD IN THE GUNDOG GROUP - A BEST EVER FOR A SUSSEX AT A ROYAL SHOW AND ONE BETTER THAN HIS FATHER GR CH WALDARLEA WHATZIT AT SYDNEY IN 2004
AUGUST
PENNY - BEST IN SHOW AT BOTH SYDNEY GUNDOG SHOWS
JULY
THE FIRST MONTH FOR THE SUPREME CHAMPION TITLE AND THREE BLACK SUNFIRE AMERICAN COCKERS CLAIM THEIR TITLES !! CONGRATULATIONS TO SUPREME CH SUNFIRE A STAR IS BORN,SUPREME CH SUNFIRE ABSOLUTE POWER AND SUPREME CH SUNFIRE ABSOLUTE POWER
PENNY CLAIMS ANOTHER BEST IN SHOW
JUNE
A QUIET MONTH - WE WELCOME JAG AND EVIL'S (CH SUNFIRE VOYAGE TO T STARZ) LITTER
PENNY IS STILL NUMBER ONE GUNDOG - A POSITION SHE WILL HOLD HER YEAR!
MAY
JAG WINS A BEST IN GROUP AT EUROA AND PENNY ADDS ANOTHER TWO BEST IN SHOWS TO HER COLLECTION!
THE BIG NEWS FOR THE MONTH IS THE PURCHASE OF AMERICAN GRAND/CANADIAN CHAMPION COCOA'S DANCIN IN MY DREAMS (IMP USA) FROM KATHLEEN AND JOHN VINO.
APRIL
THE MONTH ENDS ON A SAD NOTE WITH THE PASSING OF GRAND CHAMPION WALDARLEA WHATZIT - ONE OF THE MOST AMAZING DOGS I HAVE EVER KNOWN...
LINDA AND I VENTURED UP TO MYRTLEFORD FOR THE WEEKEND WITH ALL THE DOGS -JACKIE (CH WALDARLEA WHEREITZAT) MADE HER DEBUT AS A NEUTER AND COLLECTED THE FIRST NEUTER CHALLENGES AWARDED TO SUSSEX IN AUSTRALIA. BOOF MADE THE CUT FOR GROUP BOTH DAYS UNDER DR BRIAN CORBITT AND MRS JUDY HORTON AND WAS AUSTRALIAN BRED IN GROUP BOTH DAYS.JAG WAS BEST OF BREED RUUNER UP IN GROUP BOTH DAYS AND INTERMEDIATE IN SHOW ON THE SUNDAY UNDER MRS JUDY HORTON.
HELEN PEREYRA AND I THEN WENT TO SYDNEY FOR THE SPORTING SPANIEL AND AMERICAN COCKER SPECIALTIES.THE BABIES DID US PROUD WITH JAG'S DAUGHTER AVA - SHARNBRAE BLAK SOLITAIRE WAS BEST BABY PUPPY IN SHOW AT SPORTING SPANIEL AND BRASSI - SUNFIRE MISS CLASS IN BRASS WAS BABY IN SHOW AT TACSCNSW CHAMPIONSHIP SHOW UNDER MR DAVID KITTRRIDGE (DURBET)
MARCH
A FAMILY HOLIDAY TO THE STATES WITH JAMES,LINDA PULLEN AND HELEN PEREYRA- A LOVELY TIME WAS HAD BY ALL AND THANKS TO THE MARVINS FOR THEIR CARE OF JAG,BOOF AND BRASSI WHILE WE WERE AWAY- A SPECIAL THANKS TO DAPHNE FOR HER HANDLING OF JAG TO HIS FIRST BEST IN GROUP UNDER MATHEW MORSE.
I GOT BACK IN TIME TO SHOW JAG AT THE VICTORIAN TOP DOG NIGHT WHERE HE QUALIFIED FOR BOTH THE TOP PUPPY AND TOP DOG (BEST IN SHOW WINNERS) sAXON DID A LOVELY JOB WITH BOOF AND A GOOD NIGHT WAS HAD BY ALL.
FEBRUARY
JAG COMMENCES HIS INTERMEDIATE CAREER WITH RUNNER UP IN GROUP AND INTERMEDIATE IN GROUP UNDER MRS NOREEN HARRIS AT BALLARAT DOG CLUB.
PENNY COLLECTS BEST IN SHOW 15 AND 16 AT BERMAGUI AS WELL AS ANOTHER RUNNER UP BEST IN SHOW!
JJ COLLECTS ANOTHER BEST IN GROUP TO FINISH HIS GRAND CHAMPIONSHIP FOR VICTORIA MASTERFIELD AND LIZ SMITH IN LESS THAN 2 YEARS IN SYDNEY! HE IS NOW GRAND CHAMPION SUNFIRE ABSOLUTE POWER -THE FIFTH GRAND CHAMPION DOWN FROM BUFFY -AUSTRALIAN CH SUNFIRE BUFFYTDRAGNSLAYA!!
JANUARY 2012
THE FIRST SHOW FOR THE YEAR IS AUSTRALIA DAY INTERNATIONAL DOG CLUB WHERE JAG GOES BEST OF BREED AND JUNIOR IN GROUP UNDER MR A DI LORENZO (NORWAY) AND JUNIOR IN SHOW UNDER MR M RIADY (INDONESIA)
PENNY COLLECTS BEST IN SHOW NUMBER 14!!
DECEMBER
JAG STARTS THE MONTH OFF WITH RUNNER UP IN GROUP AND JUNIOR IN GROUP AT BASS VALLEY KC UNDER MRS LIZ HARDING AND GOES ONTO JUNIOR IN SHOW UNDER MISS MARGARET JOYCE.AT THE POINT SCORE AT YARRA VALLEY UNDER MR KEN HAMMOND JAG IS AGAIN BOB AND MAKES THE LAST 4 IN GROUP.JAG FOLLOWS UP WITH 4 MORE BOB'S AND A JUNIOR IN GROUP AT THE LANCEFIELD SHOWS AFTER CHRISTMAS. PENNY COLLECTS TWO MORE ALL BREEDS BEST IN SHOWS MAKING HER NUMBER FOUR GUNDOG IN THE COUNTRY AND NUMBER ELEVEN ALL BREEDS- CONGRATULATIONS TO MAUREEN,BRIAN AND CRAIG ON THIS WONDERFUL ACHEIVEMENT!
JAG FINISHES THE YEAR AS NUMBER FOUR AMERICAN COCKER ON THE BREED SYSTEM FOR AUSTRALIA AS WELL AS NUMBER ONE RISING STAR,ALL BREED AND BREED WINNER FOR VICTORIA (dol) HE ALSO WINS BOTH POINT SCORES FOR ADULT AND PUPPY FOR THE ACSCV.
AND-SUNFIRE IS THE NUMBER ONE GUNDOG BREEDER IN AUSTRALIA
AND THE NUMBER ONE BREEDER IN VICTORIA
BOOF FINISHES THE YEAR AS NUMBER ONE SUSSEX BOTH SYSTEMS
PENNI FINISHES THE YEAR AS NUMBER ONE YANK BOTH SYSTEMS
CONGRATULATIONS TO HELEN ROBERTS AND CATHY CAMARA ON DODGE- CH HARLMOR RUMOUR HAZIT BEING NUMBER ONE YANK RISING STAR AND NUMBER ONE GUNDOG RISING STAR IN NSW - DODGE IS A DOUBLE BUFFY GRANDSON
NOVEMBER
ONLY ONE SHOW FOR THE MONTH DUE TO PUPPIES AND FAMILY AND WEATHER !! SUNBURY CANINE CLUB ON MELBOURNE CUP DAY-AUSTRALIA'S LARGEST ONE DAY SHOW WHERE JAG WAS RESERVE CHALLENGE UNDER REV NESBITT (CAN) AND JUNIOR IN GROUP UNDER MRS K GORMAN (UK)
OCTOBER
THE BIG NEWS- THE AMERICAN COCKER SPANIEL CLUB OF VICTORIA'S 37TH AND 38TH CHAMPIONSHIP SHOWS - JAG WINS BEST IN SHOW AT BOTH UNDER JUDGES MR C BEXON (UK) AND MRS C VOGELS (USA) FROM THE JUNIOR CLASS AT NOT YET 15 MONTHS - AS AN ADDED BONUS PENNI WAS BITCH CC AND RUNNER UP BEST IN SHOW AT THE AM SHOW AND SYDNEY WAS BITCH CC AND RUBIS AT THE PM SHOW - ROGER AT ONE OF HIS LAST APPEARANCES WAS RESERVE DOG CC AT BOTH!! WHAT A DAY TO REMEMBER !!!!!
SHEPPARTON AG SOCIETY - J. W DOUGLAS/L WATSON - JAG BOB JUNIOR IN GROUP AND SHOW AND RUNNER UP IN GROUP -BOOF BEST AUSTRALIAN BRED IN GROUP HANDLED BY DAPHNE NIMONS MARVIN
THEN!!!
BACCHUS MARSH KC - JAG BOB AND BOOF BOB MAKING HIM THE FIRST SUSSEX SPANIEL TO GAIN HIS GRAND CHAMPIONSHIP UNDER THE NEW SYSTEM!! AND THE FOURTH SUNFIRE GRAND CHAMPION FOR THE YEAR!!!!!!!!
THEN!!!!
THE FIRST SUNFIRE LITTER FOR NEARLY THREE YEARS !!
S.CH TRULY YOURS BLACK BREAKIN RECORDS (IMP DMK)
D.CH AMYANKS BLK N TANTRUM
1BLACK DOG 1 BLK/TAN DOG,1 BLK/TAN BITCH
AND A BEST IN SHOW FOR CH HARLMOR RUMOUR HAZIT - DODGE - THE FIRST TIME WE HAVE DOUBLED ON BUFFY - CONGRATULATIONS TO HELEN AND CATHY
SEPTEMBER
JAG FINISHES HIS TITLE AND COLLECTS ANOTHER 2 JUNIOR IN GROUPS AND ONE IN SHOW - THANKYOU JUDY OLIVER AND DOREEN DUUFIN ! BOOF ANOTHER AUSTRALIAN BRED IN GTOUP HANDLED BY DAPHNE
OFF TO THE SUSSEX AND FIELD NATIONALS IN COLUMBUS INDIANA WITH MONICA - SAW SOME INCREDIBLE DOGS THEN BACK FOR THE ROYAL MELBOURNE SHOW
BOOF BOB SUSSEX - ABIGAIL BITCH CC AND RUBOB
YANKS - ROGER DOG CCBOB AND SHORTLISTED GROUP JJ RC RUBOB AND SYDNEY BITCH CC - GO THE SUNFIRES!
JAG JUNIOR DOG!
AUGUST
JAG STARTS THE MONTH WITH A JUNIOR IN GROUP
SYDNEY IS NOW CH SUNFIRE ABSOLUTELY FABULOS - THE THIRD FROM THE LITTER TO FINISH!THANKS LIZ SIM AND VICTORIA!
A ROADTRIP TO BRISBANE WITH JAMES FOR THE ROYAL RESULTS IN BOOF BOB SUSSEX AND JAG DOG CC AND RUBOB AMERICAN LEAVING HIM ONE POINT TO FINISH!
ALSO ON THIS TRIP IS CHASE FOR A RENDEVOUS WITH MERLIN!!
THANKS TO LYN DURRINGTON FOR HER HOSPITALITY AND GILLIAN FOR THE USE OF MERLIN
.JULY-
SHEPPARTON KC - J.MRS M GLOVER /MRS J HOCKING
JAG BOB PUPPY IN GROUP AND SHOW
BOOF (HANDLED BY SAXON MARVIN)RUNNER UP IN GROUP AUSTRALIAN BRED IN GROUP AND SHOW!!!
PENNI - BEST IN SHOW NORTH OF THE HARBOUR!!
BOBBI - IS NOW GRAND CHAMPION SUNFIRE STAR XED LOVER MAKING THREE GRAND CHAMPIONS FOR CH SUNFIRE BUFFYTDRAGNSLAYA- COBGRATULATIONS EMMA AND MAUREEN!
JUNE-
RARER GUNDOG SPANIEL CLUB OF VIC- BOOF RUNNER UP BIS -DOLLAR INTERMEDIATE IN SHOW - JACKIE VETERAN IN SHOW
OFF TO FIJI FOR A HOLIDAY!
MAY
ANOTHER BEST IN SHOW FOR BOOF - COLAC KC J. MRS L BLACK - BOOF IS NOW THE ONLY MULTI ALLBREEDS BIS WINNING SUSSEX IN AUSTRALIA !
JJ- CH SUNFIRE ABSOLUTE POWER BEST IN SHOW ORANGE SHOW SOCIETY
APRIL-
TWO MORE MINOR IN GROUPS FOR JAG
SYDNEY ROYAL - ROGER DOG CC AND BOB /BOBBI BITCH CC AND RUBOB
- BOOF BEST OF BREED
TACSCNSW- J. LINDA BUCKLEY- BOBBI BEST IN SHOW - PENNI RUBIS!!
TACSCNSW - J. M WINCH - PENNI RUBIS
ROGER'S GRAND CHAMPIONSHIP CONFIRMED - GRAND CH SUNFIRE ABSOLUTE
30/4 GUNDOG CLUB OF SA - BEST IN SHOW - CH SUNFIRE WHERE T HECKAWI -CONGRATULATIONS MONICA - THE FIRST BIS FOR A SUSSEX IN SA!!
- MARCH-
JAG HAS FOUR MINOR PUPPY IN GROUPS FOR THE MONTH AND A NUMBER OF CHALLENGES AND BEST OF BREEDS OVER OLDER TITLED DOGS!!
PENNI HAS ANOTHER BEST IN SHOW AT FAIRFIELD
February- STARTED WITH A BANG!
BALLARAT KC - JAG GAINS HIS FIRST POINTS AND MINOR IN GROUP !
BOOF (CH SUNFIRE SWAMP MONSTER) TAKES BEST IN GROUP UNDER CATHY SCOTTON (THANKS CATHERINE LARKIN FOR THE GREAT HANDLING JOB) AND GOES ONTO BEST IN SHOW UNDER IAIN HINDE.
JAG ENDS THE MONTH WITH ANOTHER 2 MINOR IN GROUPS AND ONE IN SHOW PLUS MULTIPLE BEST OF BREEDS
PENNI COLLECTS TWO MORE BEST IN SHOWS AND FINISHES HER GRAND CHAMPIONSHIP - CONGRATULATIONS TO MAUREEN ,BRIAN AND CRAIG
SUNFIRE HANNAH MONTANA FINSISHES HER TITLE - CONGRATULATIONS TO CATHERINE AND SHARON LARKIN
2010 ended on a high....................................
Penni (Ch Sunfire A Star is Born) number One American cocker
spaniel - All Breeds and Breed system (DOL)
JJ(Ch Sunfire Absolute Power) number one American cocker Dog-all breeds,Breed and Rising Star (DOL)
Bobbi (Ch Sunfire Star Xed Lover) number one American cocker - all breeds system (DOL) in Qld
Boofer (Ch Sunfire Swamp Monster) number one Sussex Spaniel - all breeds and Breed (DOL)
Dollar (Ch Sunfire Top Dollar) - Number one Rising Star - Sussex spaniel(DOL)
AND
ON THE 23RD DECEMBER MY NEW IMPORTFIELGAR TIME TRAVELLER (IMP UK) was released from Q!
10 days later he had his first BEST BABY PUPPY IN SHOW
at Historical Maldon KC under Dr B Corbitt and Mr I Hinde
Sunfire Top Dollar also gained the final points for her title here
Contact Details
Pauline Grutzner
Romsey, VIC, Australia
Phone : 0419513201
Email :
[email protected]